NHS/Red Cross Blood Drive - Nov. 1
The Friend High chapter of the National Honor Society will be hosting a Red Cross Blood Drive
Wednesday, Nov. 1 from 9 - 3 in the East Gym.
Please give blood if you are able as the supply is low due to the recent hurricanes affecting Texas and Florida.
Read the article below as to how donating blood can save lives.
Meet baby Clara –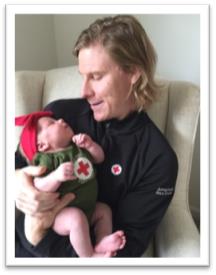 named in honor of the founder of the American Red Cross, Clara Barton, and in recognition of the blood donors that helped save her father's life. Clara is the daughter of Brian Boyle, who nearly died in a car accident at the age of 18. He received 36 blood transfusions and 13 plasma treatments.
Following a long three-year recovery, Brian wanted to somehow pay it forward and became a Red Cross volunteer and blood donation ambassador. He's volunteered more than 4,000 hours of service in support of the Red Cross mission.
This past February Brian became a Red Cross employee. He recalled, "The day before my first day of work I found out that my wife and I were having our first child, a daughter."
Brian's story has come full circle. "Getting married and seeing my daughter born would not have been able to happen without the love from my parents, support from many care providers and the blood from dozens of generous Red Cross blood donors who helped save my life. Their blood gave me back my life, and it allowed me to give life."